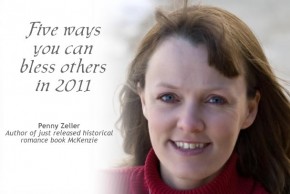 Five Ways to Bless Others
by Penny Zeller
Looking for some simple ways to bless others? Below are five easy, yet important ways to make an impact in the lives of another.
What can you do with all those items that are no longer needed, but are still in good condition? Why not bless someone else with those items?
1. Clothing
– experts say if you haven't worn something in the past two years, pass it on.
Check your community for places that take used clothing. Homeless shelters and the Salvation Army or Goodwill are just a few suggestions.
Dress for Success accepts nice women's clothing that can be given to disadvantaged women, those exiting the prison system in search of employment, or those in need of clothing for a job interview. God has used this organization to bless those seeking a second chance. For more information or to locate a Dress for Success program in your area, see
http://www.dressforsuccess.org/

2. Toys
– why not bless a needy child with a gently loved toy?
Know a foster parent? Might their foster child(ren) need toys or clothes?
You can also check with your community Department of Social Services to see if there is someone in need. Because of confidentiality laws, it is likely you will be delivering the items to Social Services to be delivered by one of their employees.
Many missions organizations are in need of small toys and stuffed animals to take on mission trips.
The Salvation Army/Goodwill are good choices as well when considering finding new homes for gently loved toys.
3. Books
– If you have extra Bibles or other books in your home, there are plenty of places in which to donate them.
Love Packages accepts Bibles, Christian books and magazines, tracts, and hymnals. They distribute these items to numerous countries and into the hands of those who are hungry for the Word of God. Be sure to check their website for a detailed list on what Love Packages does and does not accept at
http://www.lovepackages.org/
.
Send your books to Hands for Christ. They found Lending Libraries in other countries and lend out Christian items to new believers. More information can be found at
http://www.handsforchrist.org/Site/Join_Us.html

Why not donate some of your items to your church library? Be sure to check (and double-check!) your items for content. The Bible warns us in 1 Corinthians 10:32 of causing others to stumble. Make sure your donated books, DVDs, and videos are clean and wholesome family-oriented material.
4. Using your talents to bless others
– Do you have a talent for sewing? Why not use your talents to donate a new blanket or quilt to benefit a traumatized child through Project Linus International. For more information, please see
http://www.projectlinus.org/

There are a variety of opportunities to bless a child at
http://hatsfororphans.org/Home.php

Are you able to change the oil in a vehicle or winterize a car? Why not start a group through your church that winterizes/maintains cars once a year for widows and single moms?
Do you have a knack for organizing events? Why not form a group to gather individually wrapped store-bought goodies for college students or for our soldiers?
5. Miscellaneous ways to make a difference
– Have some clean plastic cottage cheese or butter containers? Check to see if your church needs these containers for leftover meals at funerals, etc. Also, if you have other clean "Glad" or "Tupperware" containers you aren't using, these can be donated as well.
What to do with all those Christmas cards (as well as other occasion cards) you receive this year? Donate cards to St. Jude's Ranch for Children at their Card Recycling Program. More details can be found at
http://stjudesranch.org/help_card.php

Could your local Habit for Humanity use your gently used household items, such as ceiling fans or doors?
Feeling inspired to help others? Before you get started please check out these rules of thumb:
Always ask someone in your family, immediate and extended, if they need the item first. First Timothy 5:8 tells us to first provide for our relatives.
Do you know any widows or single moms who could use the items? James 1:27 instructs us to take care of the widows and orphans.
Do NOT pass on anything you wouldn't use or wear yourself (i.e., junk). Clothes with stains and holes, books with pages ripped out of them, scratched DVDs, or expired food that doesn't have a place in your home certainly won't be welcome (or appreciated) in someone else's.
Always call first to see if donations are being accepted. Some places are inundated with items and are therefore not accepting donations at this time. Please be respectful of their donation criteria.
Most importantly, pray for God's guidance as you seek to find who could use your gently used items.
Now involve the entire family and bless someone today!


Penny Zeller is the author of several books and numerous articles in national and regional publications. Penny's most recent book is a Christian historical romance titled "McKenzie"- the first in her Montana Skies Series (Whitaker House). Penny is also the author of "77 Ways Your Family Can Make a Difference: Ideas and Activities for Serving Others" (Beacon Hill Press). Penny loves to connect with readers through her website at www.pennyzeller.com or her blog at pennyzeller.wordpress.com.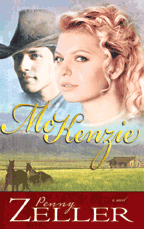 McKenzie
McKenzie (Whitaker House) is a Christian fiction historical romance and the first in a series of three in the Montana Skies Series. Release date: September 1, 2010

Read on for a synopsis of this touching and heartwarming novel:

"Desperate times call for desperate measures" is the reasoning that prompts McKenzie Worthington, a young lady of Boston's high society, to respond to an ad for a mail-order bride for a man in the Montana Territory. McKenzie is desperate, after all, to save her beloved younger sister, Kaydie, from her evil, abusive husband, who robs banks for a living. And so, it is with reckless determination that McKenzie runs away from the comforts of home and hearth to head West and meet her new husband—whom she'll divorce, of course, after she rescues her sister.

"Desperate times call for desperate measures" is the reasoning that also prompts Zachary Sawyer, a rugged rancher after God's own heart, to post an ad for a mail-order bride in various newspapers across the country. Managing a ranch and caring for his adoptive son, Davey, has become more than one man can handle alone, and Zach prays for God to send him a wife with whom to build a life and share his dreams.

When McKenzie arrives at Zach's ranch, she immediately puts her plan in motion, searching for her sister and doing all she can to keep her new husband from forming an attachment. But his persistent kindness and significant self-sacrifices begin to change her heart-and ruin her plans. God has a way of working things out to the good of those who love Him, though, as McKenzie will soon see.